NELL HARPER
Nellie Ruth "Nell" Harper is a fictional character portrayed by Nell Carter on the NBC American Sitcom Gimme A Break! which ran from 1981-1987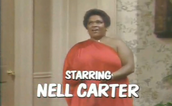 Nell Carter as Nell Harper in seasons 1-2 of Gimme A Break! (1981-1982, 1982-1983)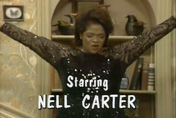 Nell Carter as Nell Harper in season 3 of Gimme A Break! (1983-1984)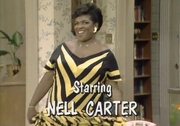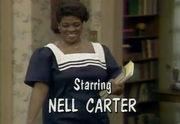 Nell Carter as Nell Harper in early season 4 of Gimme A Break! (1984)
Nell Carter as Nell Harper in late season 4 to early season 6 of Gimme A Break! (1984-1985, 1985-1986, 1986)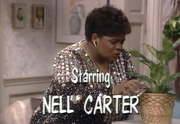 Nell Carter as Nell Harper in season 6 of Gimme A Break! (1986-1987)
                                                                                                                                                                                      EARLY LIFE IN ALABAMA BEFORE MEETING THE KANISKY'S:

Nellie Ruth "Nell" Harper was born in Tuscaloosa County, Alabama to parents Reverend Harper and his wife Maybelle. Nell was the oldest of two daughters, her younger sister being Lorretta.
Nell grew up in a Baptist household with a mother who was a minister's wife, a father who was a great preacher of God, and a sister who she could never compare to when it came to her Mama. Nell grew up hating her sister, and did many mean things to her. Nell would often be her father's favorite child, while Maybelle favored Lorretta over Nell since Nell never listened to anything she used to say.
Growing up, Nell had a friend named Addy Wilson, and the two grew up hating one another, fighting constantly, but always making up in the end. In church, Addy and her family would sit in the front oposite row from Nell's and they'd pass one another notes.
Nell was only a little girl when she sang her first solo in her daddie's church, "Precious Lord", and she was very nervous. In fact, she was so nervous, that in school, she'd always think of herself as "unpopular" so she sang and told jokes and that way she was popular. Nell had a secret admirer in high school named Earl Wagner, and when he gave her a love note, she made fun of it, kissing every boy in the cafeteria one day, including him, yet never knowing he liked her. Nell also was a chatterbox and would never study in the study halls and instead she'd talk.
Shortly before graduation, Addy was voted class Valedictorian, and that day, Nell dropped out of high school. She decided she would persue a career in show business as a singer. Her parents were very much upset at her, and her father shunned her from his life. Nell's mother told her not to go on the road, but as usual, she didn't listen to her and left to follow her dream.
NELL'S LIFE ON THE ROAD AS A TRAVELLING SINGER IN NIGHT CLUBS BEFORE SHE MET THE KANISKYS: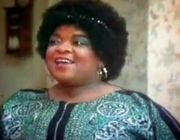 Nell left home shortly before finishing high school and never looked back. She hooked up with a guy named Charlie Johnson (a.k.a) "Good Ol' Charlie Johnson", a piano player. The two travelled all around towns and got as far as Louisville. After some time, Nell broke it off with Charlie when she met Tony Talmuch, a Trumpet Player she ran off and eloped with. Nell told her mother about what she had been doing since she left home and Maybelle did not like it one bit and told her that it won't work out for her and a trumpet player and became even more angry at her for eloping with him. A short time later, Tony left Nell. Nell was heartbroken, and she was all alone and knew she couldn't go home. So Nell turned off the pilot light on her stove and was going to commit suicide but didn't go through with it. Afterwards, Nell became part of a group called the Do-Wop-Girls, and when they went to audition for a manager, Mr. Brown, he signed all of them but told them to dump Nell because she was a "fat chick". Nell became sad again when the Do-Wop-Girls ditched her, but continued to sing in night clubs when she met Margaret Kanisky from Glenlawn, CA at one when Margaret was out of state on a trip to Chicago  and they became good friends who stayed in touch ove the years. When Nell travelled to Bakersfield, CA to do an act at a nightclub there a few years after meeting Margaret, the band leader hit on her and she quit, and to her surprise, Margaret Kanisky was there to see the show since Glenlawn wasn't too far a drive away. She invited Nell to stay with her at her home in Glenlawn until she got her next gig.
NELL MEETS THE KANISKY GIRLS AND DECIDES TO MOVE IN:
When Nell first met Margaret's girls Katie, Julie, and Samantha, they all hit it off with her. However, when she met the Chief, that was a different story. Carl Kanisky was working late at night at the Glenlawn Police Station and Margaret let Nell sleep in their bed for the night while she slept downstairs. Carl was shocked to find Nell in his bed when he got home and then kept asking Nell when she would be going to work. However, Nell had no gigs, and she stayed at the Kanisky house and went shopping with Margaret and kept secrets that Margaret and the girls had that would have driven Carl through the roof. Although Margaret was a practial joker, she told Nell that she didn't have much time to live and that she was dying and she wanted her to raise the girls and look out for Carl for her. Nell agreed and she became housekeeper to The Kanisky Family. About 7 years later, in 1981, Margaret get divorce and gone away to other house After Carl and Margaret fight Over the years, Carl became the Chief of Police in the town of Glenlawn as he and his family coped with the issue that Margaret and Carl had a fight about his attitude and divorce and Margaret move out of the house and goes to other house in 1981.
POST-MARGARET KANISKY'S DIVORCE: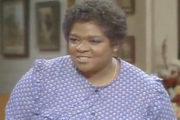 In 1981, Nell and the Kanisky family coped with Margaret (Hoffman) Kanisky get divorce and moved to other house, and Nell became a surrogate mother to the girls. Often at times, Nell would bring up "I promised Margaret/your mother on her bed" to the Chief and to the girls, and this usually happened the first several years following Margaret's death. Coping with Margaret's death was harsh. Carl wanted to sell the Kanisky house shortly after and move away from the bad memories, but he decided to keep the family in Glenlawn and Nell made sure things stayed sane all around.
Nell was always an obese child in Alabama and grew into a morbidly obese adult and realized she had a problem. In 1981 she became part of a diet group called Porkos, but it was hard for her to lose weight, especially when the Chief was always stuffing his face with stuff that was also bad for his health as well. Nell had a friend named Angie throughout the early 1980s who was a dim-witted woman. In 1981, Nell also briefly dated a football player named Bill and the Chief got angry at Nell for letting him spend the night in her room so she moved in with Angie for a night.
Nell's ex-husband Tony showed up in 1981 at the Kanisky house, asking Nell for money to go on Merv Griffin, yet blew it all when he was not asked to be on the show. Nell also had to deal with going back to Alabama when her father suffered a heart attack and made amends with him before he passed away.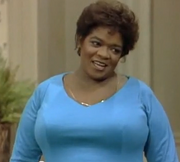 In 1983, Nell had so many changes in her life going on and so many things to be happy for. First, she lost a great amount of weight, second, she started dating a guy in her new diet group "Weight Winners" named James Roland, who at first was still married with children, but soon divorced his wife and got with Nell. Third, Nell took in little Joey Donovan, a con artist 6-year old who was running a door to door scam and who's father Tim was a merchant seaman. Finally, Nell's childhood friend Addy became a teacher at the high school in town and Nell struck up a friendship with her again and in May of 1984, graduated from night school. Also that year, Nell and Addy appeared on a special "Friends Day" edition of Wheel Of Fortune, Addy won a trip to New York, and she and Nell visited there and were ironically involved in a drug bust due to mistaken luggage at the airport. The only negative thing Nell had going on in her life was when her Mama sent her a letter, explaining how her ex-husband Tony re-married a girl who was only 18 years old and second runner up to Miss Baton Rouge and this was when she re-kindled her relationship with James Roland, who was now recenty divorced. Nell accepted James' proposal but after a while, the two broke it off and James was never seen again.
Nell then began taking college courses at Glenlawn Community College in the fall of 1984. Also that fall, Nell took Joey to the World's fair in New Orleans, where she met up with her first love, Charlie Johnson. Two big things came about from this. One, Charlie proposed marriage to Nell, the other, Joey' father Tim had arrived in town from being at sea and Joey meets him ironically at a club just as Charlie proposes marriage to Nell. Nell allows Joey to spend time with his father and in the end, breaks it off with Charlie Johnson after constant bickering and thinking Joey will want to be with his father and Tim will take him away with him when he leaves port, yet Joey's father tells him he'll visit him in Glenlawn when he has a vacation from sea and Joey and Nell return home to Glenlawn.
In early 1985, Nell briefly date a lawyer named William Frazier and thought he was having an affair with his secretary and left a nasty message on his answering machine but he forgave her and then they parted ways shortly after. Nell  then went home for her sister Lorretta's wedding when she married  a weatherman named Howard and the two were moving to Denver with his son Jerome from his first marriage and ready to ship Maybelle to Glenlawn with Nell. Nell was furious and Maybelle decided not to go and revealed to Nell she wanted to be a dancer when she was younger but never attempted it, and that she was selling her home and moving to a condo where all she had to look out from now on was herself. In May of 1985, when Julie and her boyfriend Jonathan broke up, Nell got them back together on her 18th birthday, only shocked to realize that the two went to vegas and eloped.
POST-CARL KANISKY'S "THE CHIEF'S" DEATH: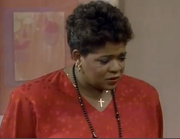 In summer of 1985, the Chief suddenly passed away,and Nell beame both mother and father to the Kanisky girls after Ralph get Promoted to Police Chief and Ralph married to Margaret after The Chief passed away, all who were almost old enough to leave home. Nell took more classes at Glenlawn Community College between 1985 to 1986 and studied English, English History, and Psychology and was a very good student. Nell had one last encounter with her ex-husband Tony in late 1985 when he asked her to join him on a cruise ship to sing and she agreed when she found out he was now divorced from the 18 year old woman he married a year ago, but was in for the shock of her life when he was actually on the cruise ship for his honeymoon with Tammy, another 18 year old he married and who left him during the cruise for another man she met onboard the ship. Also in 1986, nell briefly dated a foot dotor named Harvey, was afraid to tell him that she had Joey as a foster child, and when he met Joey he decided to leave and told Nell he wasn't ready for children and that he'd see her again someday.
In fall of 1986, Nell was at a lowpoint of her life. Addy had moved to New York City to work at a university there, Sam was rejected a scholarship into Littlefield College in Warren, New Jersey and then was granted it, Katie had moved to San Francisco to be a buyer of clothing at Chadwicks there, and Julie and Jonathan were moving to Bakersfield with their newborn daughter, baby Nell. Nell dropped Sam off at College and then she and Joey went to visit Addy at her basement apartment in New York City where Joey's father Tim was going to meet him because he was staying in New York City while on leave from being at sea. Tim surprises Joey with his younger Brother Matthew and tells Nell he wants to stay in New York and raise the boys. Nell returns back to Glenlawn, heartbroken, but Grandpa tells Nell to go back to New York because Joey was her life. Nell goes back to New York and plots to get Joey back, but finds out Tim wants to go back to sea and asks Nell personally if she will raise the boys for him and he'd promise not to take them away, as long as he could see them once in a while. Nell agrees to raise both Joey and Matthew and asks Addy if they can be roommates and she happily agrees.
In late 1986, Nell and Addy move Joey and Matthew to an apartment in Greenwich Village, and Nell put in for a job at McDillon and Loud Publishing Company as a reader and was hired. Nell also was in for the surprise of her life when Mama Maybelle arrived at her doorstep, tellig her that Howard got a job in New York as a weatherman and he, Lorretta and Jerome moved to New York and she moved with them and is only 15 minutes away on the subway. Shortly after, Nell got sick of New York and wanted to go back to Glenlawn to visit the house but finds out Grandpa sold it and is moving to New York to be with her, Addy and the boys.  In early 1987, after Nell was promoted to an assistant editor at McDillon and Loud, she decides to quit and stay home so Joey and Matthew will have someone to watch them when they come home from school every day. However, when Nell realizes Joey is growing up and can take responsibility, Nell takes her job back as an assistant editor.
In May of 1987, Nell went with Joey and Mama Maybelle back to Alabama to save her daddie's old church after an old snobby schoolmate foe of her's, Mary Ellen Baldwin, buys it and decides she will knock it down to put up condos. Nell is unsuccessful at saving her daddie's church, but her mother is proud of her for rejecting the money Mary Ellen gave her. Shortly after, Nell and Mama Maybelle's rocky relationship is put to the ultimate test when she meets her new flame, Ernie, a Sax player she met at Madison Square Garden, and when he reminds Nell that he knew Maybelle before she married her father, certain statements from him get her to think that she could indeed be his daughter. Nell finds out Ernie was a Sax player and former dancer, who took Maybelle to a dance contest while she was engaged to the Reverend Harper and the two lost and had to spend the night in a motel together after the bridge washed out during a violent rainstorm. Nell thinks that her mother married her father and didn't even love him and asks her if she and Ernie had sex in the motel as Mama Maybelle snaps at her and tells her that Nell knows the answer to that question and that the subject will not come up again.
Pages in category "Nell Harper"
This category contains only the following page.
Ad blocker interference detected!
Wikia is a free-to-use site that makes money from advertising. We have a modified experience for viewers using ad blockers

Wikia is not accessible if you've made further modifications. Remove the custom ad blocker rule(s) and the page will load as expected.